There are 79 Rotary Clubs plus many more Interact and Rotaract
Clubs in the corners of Oklahoma, Kansas, Missouri, and Arkansas.
Please visit our Where Clubs Meet page to find
information about Rotary Clubs in your area.


Past District Governor Don Den Daas announced on January 26
that District 6110 has a new District Administrator. Please click the
link below and become acquainted with Rachelle Parker.
Get To Know Rachelle





Team Rotary RAAMs Polio



District 6110 Rotarian is part of international team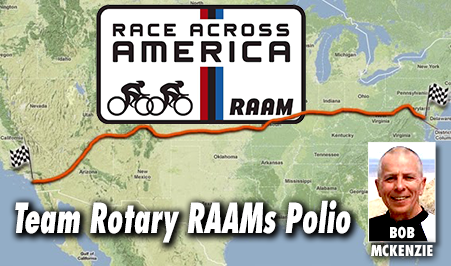 Race Across America, better known as RAAM, is a 4 member international bike team who along with crew members represent Rotary Clubs from around the world that are participating in the Polio Plus campaign to eradicate Polio.
Tulsa Rotarian Bob McKenzie is one of 4 bikers on the race team.
This race starts on June 16th, 2018 in Oceanside, CA and they hope to reach the finish by June 23th in Annapolis, MD. They will travel approximately 3,000 miles during what has been called one of the toughest events in the world.
Clubs, Rotarians and their friends are encouraged to learn
more about RAAM and hopefully support this effort.
Visit www.raampolio.com for more info
Follow Bob on Facebook