RYLA
Rotary Youth Leadership Awards, is a leadership training program that enhances your community's youth leaders leadership and communication skills while breaking them out of their comfort zones and encouraging service above self. RYLA gives students that confidence to spread their ideas of impact to their community and world while becoming life changers in the lives of those that they come in contact with.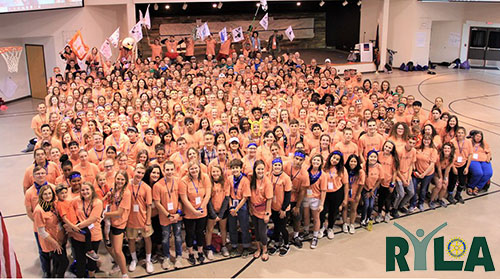 RYLA RETURNS
RYLA is returning for the Spring of 2023 on March 16-19th at Salvation Army Heart O' The Hills in Welling, OK (Just East of Tahlequah, OK)! RYLA for our Rotary District is only a couple months away and our application deadline is Monday, March 6th, 2023. The cost per student is $300.
For 2023 we will limit capacity to 200 campers. This means we will accept complete applications with payment as a first come first serve basis and then will start a waiting list, payment and complete applications are considered complete when received by Tracey Dean along with her emailing you confirmation that your campers are in. Tracey will also communicate with you if your campers are on the waiting list.

The student application for 2023 (high school juniors) is live HERE and as well here are a few camp FAQ's HERE. We would prefer applications be completed via typing into the fill able form, however clean and clear penmanship is the goal.
If you are looking for a great recruitment video or video to share at a club meeting or you personally are unaware of what RYLA is check out the video here
RYLA is the Rotary District 6110 sponsored youth leadership training program. RYLA is traditionally focused on class leaders who are currently in their junior (11th grade) year of high school. In addition if your club is hosting a student through youth exchange as long as the individual is attending high school (10-12th grades), he or she may attend RYLA camp with the permission and participation of the sponsoring club.

We accept students who have outstanding records and are looking for new ways to learn and grow in the areas of leadership, communication, diversity, vision, mission, teamwork, service, selflessness, and ROTARY.

We are also still looking for chaperones that would stay all 4 days at camp as well as Rotarians/Volunteers that have video/photo capabilities to capture camp. Can't stay all for days, we are also looking for Rotarians that can spend the day with us investing through mentoring and service.
The link to the chaperone application is HERE.
Do you follow RYLA on Facebook? Click HERE to follow all the awesomeness leading up to camp!
We look forward to the impact that we will make at RYLA 2023 and hope you are prepared to send campers or be a part of camp yourself!

For More Information, please contact:
Matt Hancock, Rotary District 6110 Co-chair RYLA, Rotary Club of Tulsa (click name to e-mail) 918.260.3413 via text
Tracey Dean, Rotary District 6110 Co-chair RYLA, Rotary Club of Pryor (click name to e-mail)