RYLA
SPRING 2022 RYLA CAMP UPDATE:

For close to 100 years Rotary has dealt with dynamic situations with confidence. While we cannot predict the future, the determination to schedule RYLA for the spring was done with a high level of confidence. The safety and health of campers and staff at camp have always been our highest priority.

Through this lens we have recently evaluated the current status of COVID-19 as well as spoken to many partners and determined that RYLA for the spring will be CANCELED. Our RYLA team will begin planning for the fall with camp occurring in October through either the traditional over night camp or a plan B, C, and D in Mid-March with a committee meeting.

We will continue to keep you updated as new information becomes available. We are staying optimistic while planning and preparing for the Fall of 2022 for our next RYLA!
Rotary Youth Leadership Awards, is a leadership training program that enhances your community's youth leaders leadership and communication skills while breaking them out of their comfort zones and encouraging service above self. RYLA gives students that confidence to spread their ideas of impact to their community and world while becoming life changers in the lives of those that they come in contact with.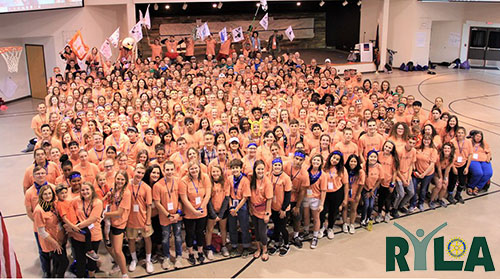 RYLA RETURNS
As we enter the holiday season I am excited to announce that RYLA is returning for the Spring of 2022! As we near our 30th camp session I acknowledge that may new Rotarians may not be aware of this lifechanging youth program as well as some of you have slept quite a few times since our last camp in the fall of 2019!

RYLA is the Rotary District 6110 sponsored youth leadership training program. RYLA is traditionally focused on class leaders who are currently in their junior (11th grade) year of high school, however the spring of 2022 will be for High School Seniors and then in the fall of 2022 we will serve high school Juniors. You read that right, 2 RYLA's in 2022. If your club is hosting a student from a foreign country as long as the individual is attending high school (10-12th grades), he or she may attend RYLA camp with the permission and participation of the sponsoring club.

The 30th RYLA camp for District 6110 will be held at the Salvation Army Heart of the Hills facility located in Welling, Oklahoma just outside Tahlequah, Oklahoma on March 17-20th, 2022. Our camp is looking for bright leaders who have displayed leadership characteristics.
We accept students who have outstanding records and are looking for new ways to learn and grow in the areas of leadership, communication, diversity, vision, mission, teamwork, service, selflessness, and ROTARY.
FALL 2022 CAMP INFO Coming Soon!
Get Student Application
Get the RYLA Student Application here.
For More Information
Tracey Dean, Rotary District 6110 Co-chair RYLA 2016, Rotary Club of Pryor (click name to e-mail)
Matt Hancock, Rotary District 6110 Co-chair RYLA 2016, Rotary Club of Tulsa (click name to e-mail)
Send student applications to:
Rotary District 6110
Rotary Youth Leadership Award
208 S. Vann Street
Pryor, Oklahoma 74361