Rotary District 6110 Office in Tulsa
The beautiful new District 6110 Office, a wonderful resource for our district, is now on 63rd Place in Tulsa just off South Memorial Drive. If you happen to be stop by and take a tour of the office and say hello to District Administrator and Rotarian Terri Pollmiller and Bookkeeper Pat Phillips.
District 6110 Lieutenant Governor Rolf Hufnagel of the Rotary Club of Bixby no longer needs such a big office and has generously offered to allow District 6110 to use the space for the cost of utilities. A dedicated team of Rotarian volunteers gave the office space a major makeover.
There are a several smaller conference rooms/offices and a large meeting room that are available for use by district Rotarians and Rotary clubs. rotarydistrictoffice@gmail.com to make a reservation. Please refer to the Building and Equipment Use
Policy and the District Office Facilities Agreement.
Rotary District 6110 Office
on 63rd just off Memorial in Tulsa
8209 East 63rd Place
Tulsa, Oklahoma 74133
(Just off South Memorial Drive and East 63rd Place).

Rachelle Parker
District Administrator
rotarydistrictoffice@gmail.com
918-481-6110 (office)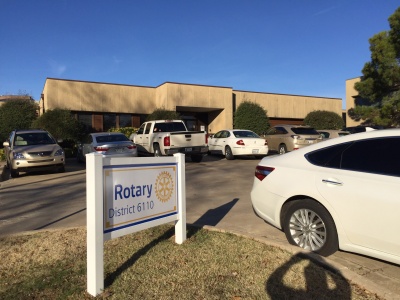 The Large Conference Room
A large meeting room, 25' x 31' (775 square feet) can accommodate up to 50 people with various options for room set up. The large conference room is a perfect place for visioning events and club leadership / committee chair training. There are two 42" flat screen televisions and a 7' x 18' projection wall, suitable for your PowerPoint presentations.
The large meeting room is being used for all kinds of purposes. For example, some local clubs hold board meetings at the District Office. The big room is a perfect place for club visioning. The Council of PDGs (past District Governors) now hold their annual meeting at the facility. Eventually the space will be used for social functions, education seminars, and much more.
Upon prior notification, either the large or the small conference room may be set up with a conference type speakerphone for audio or visual teleconferencing.
Small Conference Room
The smaller "Service Above Self" conference room will comfortably accommodate up to 6 persons at a round conference table with comfortable conference chairs. Other chairs can be added around the walls. Presentations may be projected upon the white-board in that room.